Bonnie Spindler has a deadpan look when she tells a visitor, "I've got skeletons in my closet."
No, she isn't referring to some deep, dark mystery about her old house at 900 D St. in Petaluma.
When she reaches for a knob and opens a storage closet door off her patio, it's clear she wasn't kidding. It's literally crammed with life-size skeletons. The ghoulish collection came with the house, along with a trunk of pirate's "treasure."
When Spindler bought the house three years ago, she agreed to carry on the home's tradition as Cavity Cove, for nearly 20 years one of the most popular stops for trick-or-treaters who flock to D Street every Halloween for thrills, chills and sweet loot. You have to love Halloween if you move to D Street, and you have to be prepared to dole out thousands of pieces of candy.
Spindler is totally on board and has even added to the stash of skeletons, pirate hats, flying dragons and other decoration aimed at eliciting gleeful shrieks from trick-or-treaters.
"I add stuff every year," she said.
People will have a chance to see the home from a different angle, however, during the Heritage Homes of Petaluma's Spring Parlor Tour May 13. The Spanish-Mediterranean-revival house, with its distinctive tower and entrance facing the street corner, is one of three homes open to visitors.
In a town known for its Victorians, this tour features 20th-century homes, including a neighboring Arts-and-Crafts bungalow on D street built in the 1920s and an English-cottage-style house built in 1950 and occupied by three generations of the same family.
Spindler, a real estate agent, has built a reputation as "the Victorian Specialist." Although she doesn't deal exclusively in historic properties, she specializes in buying and selling properties in San Francisco and Petaluma built before 1926. She is a regular on "The American Dream," a TV show that highlights lifestyle and real estate.
Spindler splits her time between Petaluma and San Francisco, where she lives in an 1893 Victorian built for Isadore Zellerbach of the Crown Zellerbach Paper Co. She most recently bought and renovated a landmark Queen Anne presiding over the corner of Sixth and B streets in Petaluma.
But Spindler said she long coveted the 15-room mansion at 900 D St., in part because its walls and thick hedges offer privacy even though it's close to another prominent street corner.
"I love Victorians," she said. "That's my thing. But I love everything that is historic. And I love how solid this house is. When you walk around, the floors aren't squeaking. They're not moving. It's all on poured concrete, and it's just a really solid house."
Historic home
Spindler's "new" old house sits at the corner of D and Tenth streets. It's situated at an angle so it literally faces the corner, not either street. It was built in 1929, right before the stock market crash sent the country into the Great Depression. It was the waning days of the Roaring '20s. Money was still flowing and many tycoons and Hollywood movie stars fancied grand Spanish-Colonial homes with wrought-iron details and tile roofs.
Architect Don Uhl, whose practice was on tony Melrose Avenue in Los Angeles, designed many homes for the rich and famous, including a home for studio mogul Louis B. Mayer. Prominent Petaluma businessman and civic leader Carl Behrens turned to Uhl to design his new home on fashionable D Street, an avenue of impressive show homes for the town's elite.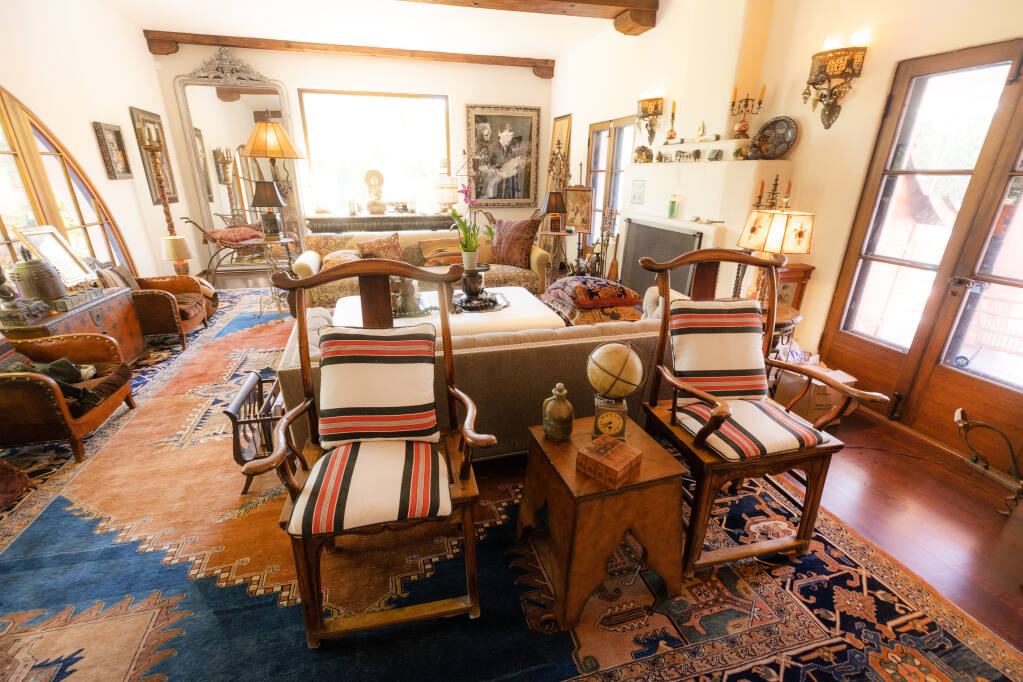 Behrens was the founder and principal owner of Hunt and Behrens, a grain, feed and poultry company established in 1921. The company is still in business today, occupying the towering grain elevator across the river from downtown Petaluma.